I'm so excited to announce that the fourth novel in my Home to Oak Hollow series has a title! ??
A Marriage of Benefits releases in February 2022!
Here's a glimpse into Jake and Jessica's story:
When Jessica Talbot leaves Hollywood for the Texas Hill Country, she plans to open a wildlife rescue in Oak Hollow, but the money she'd counted on is unavailable…unless she's married.

Officer Jake Carter's teenage crush has returned to his small-town, and her suggestion of a marriage of convenience is a disaster waiting to happen. But…it could also be the answer to his problems.
Keep your eyes here for more news about this book, or sign up to my newsletter to get the exclusive jump on all the news, books, cute animals and giveaways!

New Book Excerpt!
Here's a fresh passage from my forthcoming September 28th release, A Child's Christmas Wish. The book is available now for pre-order! Click here for purchase options. I hope you enjoy this new sneak peek inside the book!
???
On the morning of their new nanny's second day of work, Eric sat on the front staircase, carefully removing one of the damaged spindles so he could recreate it on his lathe. Getting out to his workshop would give him an escape from the way Jenny appeared out of nowhere—as if she really were a fairy who could materialize without warning. But he also looked forward to working with wood. Building and creating was on the short list of things that relaxed him, and he could really use the calming effect of woodturning about now.
As if his thoughts had conjured her, Jenny appeared on the other side of the stairway banister, right at eye level. And way too close. When her floral scent tickled his nose, he stood and hurried down the stairs with the spindle in his hand. "Need something?" His tone was harsher than he'd intended, and he winced when she shot him a side stare that left him feeling scolded.
"Lilly and I are about to start making lunch. She wants to make a hot cheese and asked for you to eat with her. I just wanted to make sure she's talking about grilled cheese?"
"Yes."
"It should be ready in about fifteen minutes."
He held up the worn stick of wood. "I need to take this out to my workshop." He walked in a wide arc around her and out the kitchen door. He needed time to prepare himself for sharing a meal with Jenny. Wait. He stopped in his tracks. She'd told him to come eat lunch as if he was a child she was nannying. He'd have to remind her that it was Lilly she'd been hired to tend. Not him. He could take care of himself and had been doing it the majority of his thirty-five years. His boots ground against the old bricks as he turned, ready to march inside and tell her he would not be called to lunch like a child. But he was hungry. And he didn't want to disappoint his daughter. Eric continued to the carriage house and set up what he'd need to start working on after lunch.
When he opened the kitchen door, Lilly was sitting on the floor beside Brad, playing with a set of wooden blocks.
"Hi, Daddy."
"Hey there, Lilly Bug." He scooped her up, making her giggle when he gently tossed her into the air and then cuddled her close. "Whoa, little fairy. Are you trying to fly away?"
"Fly again, Daddy. Again."
A few more gentle tosses had her laughing, the beautiful sound reducing his stress. He put her in her booster seat. When he turned and met Jenny's eyes, she was smiling in a way that lit her whole face. A way that made him overheat and fight for his next breath. Why did she have to look at him like that—all sunshine and sexiness?
Forcing himself to look away, he grabbed a Coke from the refrigerator and pressed the cold can against his forehead. I can't let this woman get in my head. There were too many reasons why getting involved with her was a bad idea. Too bad he couldn't think what any of them were at the moment.
In the center of the kitchen table sat a bowl of fresh fruit salad and a platter of grilled cheese cut into different shapes. There were triangles, squares, diamonds and one star.
Jenny caught him studying the food and shrugged. "I figure why not take every opportunity to teach her something. Today's lesson is shapes. Anson's daughter Hannah gave me the idea."
Eric made a sound in the back of his throat that he hoped conveyed approval but glanced away from her smile before he accidentally returned it. He couldn't give her any impression that he wanted to be friends…or more.
Jenny gave Lilly a quick geometry lesson before he was handed a plate with a triangle, two squares and a diamond.
"Lilly, I was just about your age the first time I came to this house. It was Christmas, and I thought it was the most magical place in the world."
"Magic?" Lilly's blue eyes widened.
"Yes. Christmas magic. There were lots of lights and a collection of snow globes that I thought fairies lived in."
"Christmas fairies?" Her little hands were pressed to her cheeks.
"I think so."
Jenny started a dramatic retelling of some story about being here as a kid, and he concentrated on eating quickly. Getting out of the city was supposed to lessen the constant noise that had assaulted his ears, and it had. Until Jenny Winslet. But Eric couldn't help enjoying their conversation. His daughter's delight was obvious, and hearing Lilly talking and laughing was always a good thing, but he was well practiced at hiding his reaction. If he didn't join in, she'd get the hint and leave him out of the conversation.
As if she'd read his mind, Jenny turned to him, an idea clear in her big eyes. "I realize it's still a week until Thanksgiving, but I can help you get started on decorating for Christmas. Just in the downstairs rooms that you're not working on yet." Her knee bounced rapidly, and she glanced around the kitchen like big plans were forming. "This is a huge house, so I hope you have a lot of decorations. You do, right?"
She was lit up as bright as the Christmas lights she'd no doubt want him to put up outside. His throat tightened, making swallowing and breathing normally a challenge. Her excitement was going to be overwhelming, and he knew she wouldn't like his answer. But at the same time, he couldn't wait to see her reaction. "One box and a three-foot plastic tree."
A chunk of fruit fell off her fork the same moment her mouth dropped open.
Pressing his lips tighter, he barely restrained a smile and the laugh he fought hard to hold back. He hadn't felt like laughing like this in a while, not with anyone other than Lilly.
"One. Box," she said. "Something tells me you've never been voted Mr. Christmas?"
"Nope." He received an immediate narrow-eyed stare that made her full lips pucker into a kissable pout. God help me.
"Eric McKnight, are you one of those anti-Christmas people?"
"Not anti. I just don't get the excitement. I never…" He shrugged. "I got the tree for Lilly." He might not understand holiday enthusiasm, but this woman was making him crave a different kind of excitement.

End of Summer #GiveawayAlert!
You know I couldn't resist doing a giveaway to send summer out with some fun and prizes. ??? Details and entry form are below – keep on scrolling for more!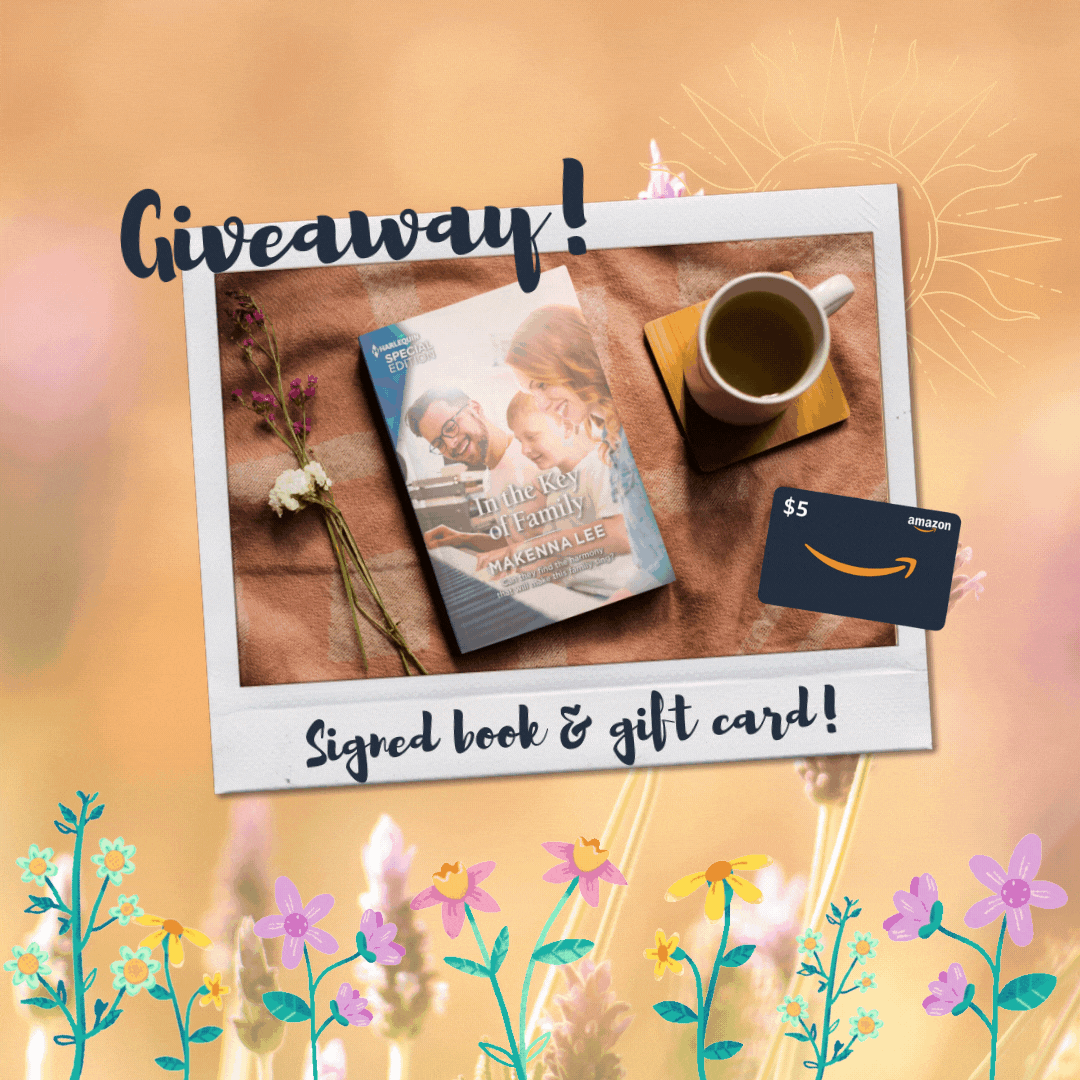 One lucky participant will win a signed copy of In the Key of Family and a $5 Amazon gift card.
Just click here or use the Rafflecopter widget below.
The more ways you enter, the more your chances of winning.
Good luck, and have fun! ????