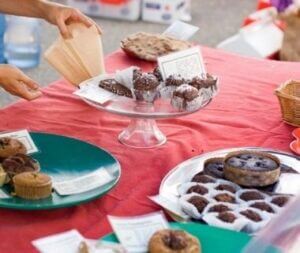 It feels like the perfect week to share a romance-inspired holiday cookie recipe!
Because I'm ready for the holiday season. What about you?
My Christmas tree went up the first week of November for several reasons. First, because…2020. But the main reason—besides me being wild about Christmas—is because I'm writing a new Christmas book! The holiday atmosphere is just what I need to get the ideas and creativity flowing. ???
This is an original recipe to go along with the mini romance I wrote for Harlequin, and shared with you last month. You can read Home to Oak Hollow on the Harlequin website by clicking here. It's a second chance romance with a baking contest and a motorcycle-riding chef.
The below romance-inspired holiday cookie recipe is courtesy of my youngest son who has taught himself to be an amazing chef and created a cookie recipe for my story!
I hope that your December is merry, bright, warm and safe!
XOXO,
Makenna
???????
Spicy Hot Chocolate Cookies
Created by Ben Culver
Ingredients
1 Cup of flour
½ Cup of unsweetened powdered cacao baking chocolate
½ teaspoon of baking soda
¼ teaspoon of salt
¾ teaspoon of cayenne pepper
½ cup of unsalted butter room temperature
2 ounces of melted dark chocolate
1/3 cup granulated sugar
2/3 cup brown sugar
1 egg
1 ½ teaspoons vanilla extract
½ cup of chocolate chips
½ cup of mini marshmallows
Directions
Combine the flour, cacao, baking soda, salt and cayenne pepper and set it aside.
In a large bowl, or in your electric mixer, beat together the butter, melted dark chocolate, and the brown and white sugar. Once combined, add the egg and vanilla extract. Slowly add the flour mixture. Fold in the chocolate chips and mini marshmallows.
Form into balls and chill 2 hours.
Preheat oven to 350 degrees.
Place the chilled balls on a parchment paper lined cookie tray and bake for approximately 12-14 minutes.
Enjoy! ?☕?